SOLAHART BRISBANE SOUTH EAST
Wavell Heights Customer Installs Latest SolarEdge Technology
WHY CHOOSE SOLAREDGE?
12 Year Warranty as Standard – Extendable to 20 Years.
Roof Utilisation – SolarEdge technology allows our solar technicians to design a panel array across multiple roof areas, both across different orientations and angles. Panels can be installed on roofs sections facing west, north and east.
Monitoring – A SolarEdge system comes with panel-level monitoring, free for life. This is a valuable feature for both system owners and for us as the installer because it allows our support team to identify faults on individual panels.
System Safety – SolarEdge systems feature increased safety, minimising both fire risk and electrocution risk.
Easily Expandable – SolarEdge systems are expandable, limited only by your roof space and the size of the installed inverter.
Battery Compatible – Combining SolarEdge's breakthrough PV inverter technology with leading battery storage system, the StorEdge solution helps homeowners reduce the electricity bills while maximising energy independence from the grid.
Solahart Brisbane South East is committed to providing our customers with the best possible Solar Power Solutions!
The sacrificial anode is designed to attract minerals and impurities in the water which would otherwise react with the inside of the tank and cause it to rust and deteriorate.
After 37 years of service and hot water free from the sun, the choice was clear for the family from Tamborine Mountain to replace their 1979 model with the latest technology of a new Solahart 302L.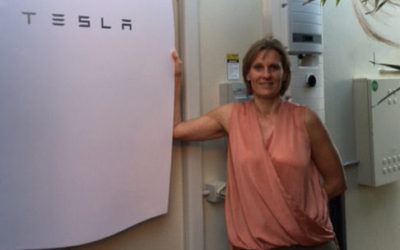 Solahart Brisbane South East have helped a Thornlands family dive into solar with the installation of a 5.1kW SolarEdge Solar Power System and a Tesla Battery Storage system.
TO FIND OUT WHICH SOLAHART PRODUCT IS RIGHT FOR YOU CALL 3390 1590
Want to cut your energy bills? Thanks to news.com.au and Solahart, you could save hundreds of dollars every year. Solar power has come a long way. Only 20 years ago, solar-powered houses were considered something only the fringes of the mainstream were...
WHY CHOOSE SOLAHART
Solahart Brisbane South East have over a decade of experience supplying, installing and providing after sales service to solar hot water and solar power customers.
Covering an area from Bracken Ridge to Oxenford.
BRISBANE SOUTH EAST
Call Us: 07 3390 1590
Email: admin@solahartbse.com.au
Address: 9/42 Smith Street, Capalaba  Qld  4157
Address: Stafford Road, Stafford Qld 4053
Hours:
Monday - Friday 8.30am - 5.00pm