Most Satisfied Customers | Solahart
Solahart has been ranked best in Canstar Blue's 2020 review of solar installers in Australia. Solahart achieved five stars for its solar system durability, installation process, solar system performance, customer service and overall satisfaction.
For the full article head to – Canstar Awards 2020 Solahart rated best for solar panel installation
With lower power bills and renewable energy on the table, the choice to go solar should be an easy one. What's probably not so easy are the few hurdles along the road to going renewable. Will it fit in your budget? Do solar panels work with your roof? Should you purchase a battery? With all of these questions in mind, it becomes crucial for the everyday Aussie to be in good hands when it comes to their installation specialist. And with 69% of customers we surveyed comparing quotes from several installers before going with one, it seems that a good majority of us are putting in the yards before settling on one retailer. Though, you'd have to worry about the other 31%.
It goes without saying that solar installation isn't always black & white, with so many installation companies on the market claiming to have the cheapest prices and best service. You will have seen all those Facebook ads targeting you after searching for 'solar' in Google that one time?
Especially as a first-timer, it's not always clear what your best options are. And that's where we come in. Canstar Blue has taken the work out of choosing a good solar installer, by collecting the opinions of those that have already installed solar across Australia. We've asked them to rate their solar installer on variables such as customer service & advice, performance of solar system, installation process, durability and set-up cost, in order to help you find one that suits your needs. So, what did we find?
Best Solar Panel Installers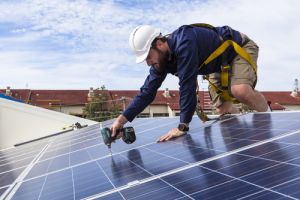 Here are the best solar installers in Australia, as rated by more than 1,000 households in our customer satisfaction survey:
Solahart
Solar Australia
EnergyAustralia
Euro Solar
Bradford Energy
Origin Energy
Solargain
In our first-time solar installer ratings, Solahart was the only provider to be rated five stars for overall satisfaction. In fact, it achieved five-star ratings in all categories bar one, which include customer service & advice, performance of solar system, installation process and durability. For Solar Australia, EnergyAustralia, Euro Solar and Bradford Energy, it was four stars for overall satisfaction. Origin and Solargain scored three stars overall.
It should be noted that, although we conducted a national survey to form these ratings, some of the companies listed may only operate in certain states or regions. Also keep in mind that we only compared solar installers that received the minimum sample size of 30 to be included in the ratings.
Solahart

While Solahart is probably best known for its solar hot water systems, with operations dating back to 1953, this company also retails solar panels and energy storage solutions. Solahart made its humble beginnings in Western Australia, growing to offer solar installation to more than 70 countries as a subsidiary of Rheem. The company, a Clean Energy Council Approved Solar Retailer, says it holds its practice to a high standard and according to its website, its "installers are trained to the highest standards to ensure the safety and effectiveness of your system".
Solahart almost had a clean sweep of five-star ratings in our inaugural solar installer review, in categories such as customer service, solar system performance, installation process, durability and overall satisfaction. It scored four stars for set-up cost.